Executive Summary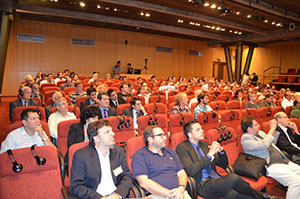 The International Conference "The Austrian School of Economics in the 21st Century" was held in Rosario (Argentina) in September 2006.
It is important to point out that, with regard to the work of the members of the Austrian School, an event of this type had never been made in our country. To be precise, we talk about a pure academic conference, under the "umbrella" of the Public University, a three days conference with reception of papers –which were reviewed and evaluated by an academic committee. Thus, and aiming to analyze, to re-study and to shed light on all the aspects of a School, which probably constitutes the most brilliant page of the economic discipline, the Bases Foundation (Rosario) and the Hayek Foundation (Buenos Aires) proposed the organization of an International Conference.
Fortunately, the results could not have been better. Additionally to the list of outstanding guest speakers (Richard Ebeling, President of the Foundation Economic Education, Ricardo Rojas, Vice President of the Hayek Foundation and Gabriel Zanotti, Director of the Research Department of ESEADE) the conference had an extensive group of national and international lecturers (actually, these international lecturers represented thirty percent of the Schedule) who gave their original and interesting approach to the wide spectrum of theoretical developments that characterizes the Austrian School. In this way, the exposed papers reflected interests that went from Economics to the Political Philosophy, and from Epistemology and the Philosophy of the Mind to the Methodology of Social Sciences.
All the papers that were approved by the Academic Committee have been published in the Acts of the Conference (in CD ROM), which were available at the Conference.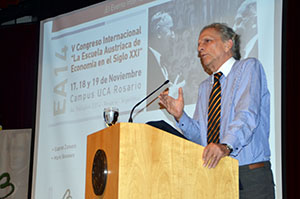 To more than thirty speakers - conformed by lecturers and guest key speakers - seventy people, mainly students and university faculty, attended the event. We must also mention that, among the attendees, there was an interesting percentage of people from abroad (Colombia, Paraguay and the United States).
On the other hand, important institutions – Universities, Think Tanks, Student Clubs, etc – from Argentina and the rest of the world honored us with their trust, sponsoring the Conference and spreading informative documents to their members, subscribers and friends. Similarly, the Austrian Embassy in Argentina sent a support letter written by the ambassador, Mrs. Gudrun Graf, which was read during the opening act of the event.
Finally, and in order to give another example of how serious the organization of this event was faced, the Hayek Fund which is granted by the Institute of Humane Studies (George Mason University) awarded a scholarship to three foreign lecturers to facilitate their trip to Argentina.